This shop has been compensated by Collective Bias, Inc. and its advertiser. All opinions are mine alone. #GPHolidayAtHome #CollectiveBias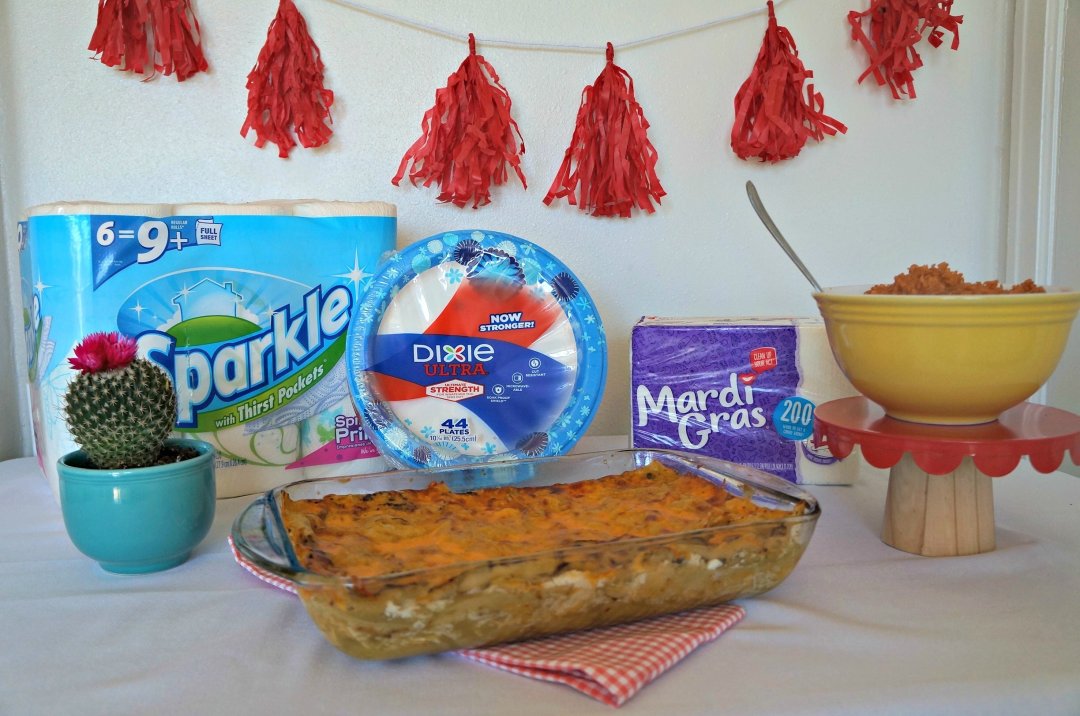 Hover over the image above to stock up on my favorite GP products! 
I WISH entertaining was something that came super naturally to me! I seriously admire people who have a knack for creating gatherings, inviting people over for dinner at a moment's notice, or throwing parties–what better way is there to foster relationships and make people feel loved and included than to invite them into your home? For the first few years that Dave and I were married, having people over was something I always ended up enjoying a lot in the end, but the preparations were always stressful and I needed like a week of advance notice. I felt like my house had to be perfectly clean and the food super impressive. Plus, our little duplex that was built in the 1940's works great for our starving student budget, but I always felt insecure about inviting people over because the lack of a dining area is not super conducive to entertaining! Noticing a theme? Lots of excuses 😉
THANKFULLY I've started to get over this lately. For one thing, I noticed that even though our house is tiny and, in my perception, not an optimal gathering place, people want to come over. Really! I'm always surprised at how many friends and family will suggest our house for a get-together, when I would assume they'd rather go somewhere bigger or with a more open layout. At our house people are sitting on the floor and holding plates in their laps, but no one has complained yet. I hope the food and the company are what people remember when they come over! 
I also finally realized that I've never once gone to someone's house and been like, "Well, the food wasn't fancy enough, and their house wasn't from the parade of homes, so count me out." I'm just flattered to have been invited, and excited that I get to spend time with friends and family/don't have to cook dinner that night! The kind of people that you want to spend time with really don't expect perfection. Once I started thinking about situations in the way that I would perceive them, inviting friends and family over got way less intimidating. 
Living where we do in Utah Valley has forced me to get outside of my comfort zone and become a better host, because we actually have friends and family passing through all the time, and I love it! 
Currently, thanks to college, all of my younger sisters live within 30 minutes, and a few of my cousins and our niece also go to school nearby, so it's a treat getting to have them over for dinners since I'm the "mom" of the group. They don't really seem to care that our house isn't glamorous (I think they're just excited for a home-cooked meal). Ella and Penny also love having a captive audience and lots of extra attention from their aunties. We recently had some of them over for Sunday dinner, and had a blast! These pictures are dark and not Instagram-worthy because …. that's real life! Just like our picnic-style Sunday dinners, haha! 
As we've hosted more meals and gatherings, however, I've realized that I need to find some shortcuts to make things a little easier on myself in order to actually be able to enjoy it instead of falling back into my "having people over is hard" mindset. As I mentioned above, our house was built in the 1940s. You know what they didn't include back then? Dishwashers. That's right, we wash every.single.dish by hand. If I'm going to be feeding a large group, paper products are a must! 
Thankfully Dollar General carries Georgia-Pacific products that prevent clean up after a family dinner from being an all-night ordeal, and keep costs affordable. Dixie Ultra® paper plates are actually sturdy enough to hold up under an entire meal. Sparkle® paper towels fit into my budget and help me with those last-minute frantic bathroom and counter wipe-downs that happen minutes before guests arrive (hey, I said I was getting better at the not-panicking-before-entertaining thing, not abandoning it altogether). And Mardi Gras® napkins thankfully come in packages big enough to accommodate for the inevitable spills that accompany any dinner that my children will be participating in especially when they are sitting picnic-style on the living room floor.
How cute are the little conversation-starters on each napkin? Right now, through 12/23/17, you can get $3 off when you purchase three participating Georgia-Pacific products at Dollar General, so stock up for the holidays! 
Another critical element to cooking for a crowd in a tiny, old-fashioned kitchen is simplifying the recipes I use! Something that's affordable and doesn't make a huge mess (eliminating the number of dishes filling my sink when people walk in :)), and even better, can be put together ahead of time! This super-easy and yummy green chili enchilada bake is one of my all-time favorites for feeding a lot of people. It only uses six ingredients and is wayyyyyy quicker and less labor-intensive than rolling actual enchiladas (this is also a dish that I love for taking to families that need a meal because it's pretty picky-eater friendly). Check out the recipe below. And yes, my Dixie Ultra plates could even stand up to a huge helping of enchilada bake, Spanish rice, and re-fried beans! 
Do yourself a favor with your holiday hosting this year and simplify Georgia-Pacific paper products and save at Dollar General! Check out some more #GPHolidayAtHome inspiration here! 
| | |
| --- | --- |
| | |
Preheat oven to 350 degrees. Grease a medium baking dish.

Place chicken in prepared dish and season with garlic salt. Bake for 45 minutes until juices run clear and chicken is no longer pink. Cool, shred, and set aside (I also sometimes do this step in the slow cooker. Place chicken in slow cooker, season with garlic salt, add about a half cup of water, and cook on low for about 6 hours until chicken is done).

Pour about half an inch of enchilada sauce in the bottom of a medium baking dish. Arrange a single layer of tortilla pieces in a single layer in the bottom of the dish. Sprinkle with 1/2 of the chicken, 1/3 of the cheese, and 1/2 of the sour cream (I use a spoon and do little dollops of sour cream across the surface). Repeat tortilla/chicken/cheese/sour cream layer again.

Coat remaining tortilla layers thoroughly with enchilada sauce and arrange over the top of the dish. sprinkle with remaining cheese.

Cover, and bake for 45 minutes. I usually remove the foil and broil it for a minute or two to get the top nice and bubbly. Cool slightly and serve.
*I play with the number of layers depending on the size of the dish I'm using. A 9X13 usually just makes two layers of chicken, a smaller one makes 3. I also drizzle extra enchilada sauce over the top sometimes, it just depends on your personal preference. Recipe originally from Allrecipes.